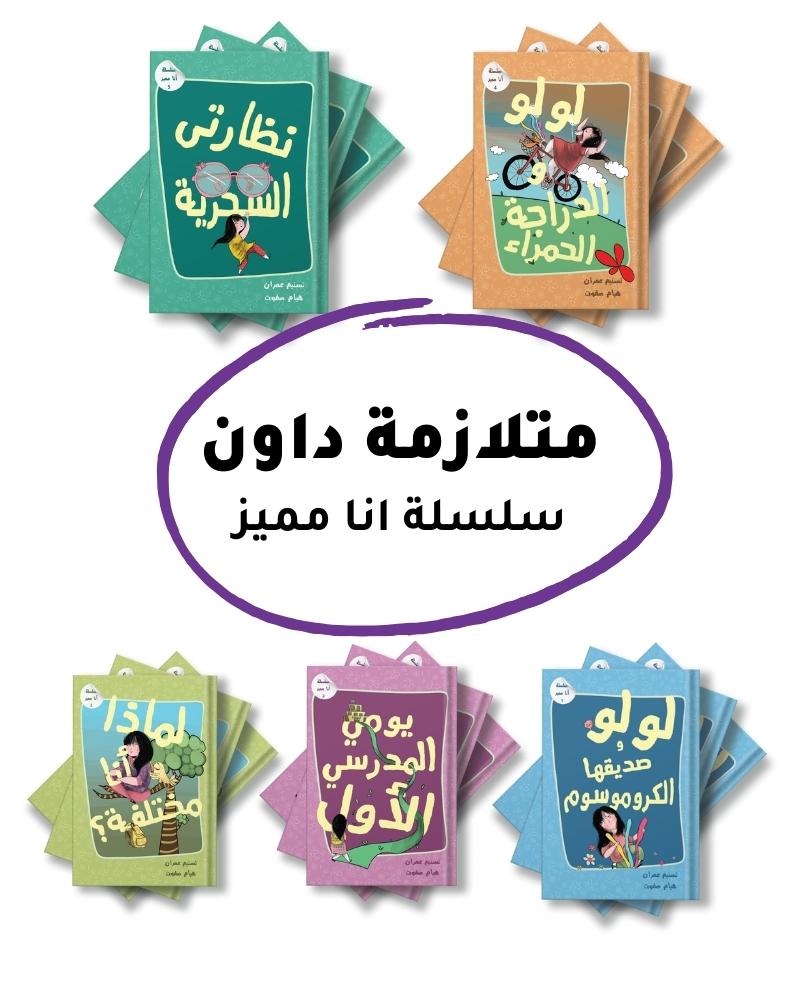 Super sale
25% OFF
Time limited!
Super sale
25% OFF
Time limited!
Super sale
25% OFF
Time limited!
Super sale
25% OFF
Time limited!
Enlarge photo
Down syndrome collection - I'm Special
Dar Lulu aims to promote positive values ​​and concepts among children, through stories that teach them moral principles, and develop their reading, writing and innovation skills. The house is interested in presenting stories that suit different age groups and meet their interests and needs.
The "I'm Special" series will introduce readers to children with Down syndrome by focusing on their abilities and talking about them realistically.

Learn more about the details of the story through the description below

Author: Tasnim Imran
Get FREE SHIPPING if the check amount is more than 150.00 Dhs
partner
Our mission is to provide young readers with engaging stories that not only entertain but also educate and empower. Today, we're excited to introduce our latest project - a series of five heartwarming and supportive stories tailored for children with Down syndrome.
Our 5 Inspirational Stories
1. Lulu and Her Friend Chromosome
Join us in the enchanting world of Lulu, a charming character who introduces children to the concept of chromosomes with simplicity and warmth. In this story, Lulu's journey helps kids understand that having an extra chromosome is a part of what makes each person unique and special.
2. Why Am I Different?
In this heartwarming tale, we address a question that many children with Down syndrome might ask as they grow up. "Why am I different?" This story beautifully explains that being different is what makes each of us unique, just like our favorite colors or foods.
3. My First School Day
Embark on an exciting adventure with a child with Down syndrome as they experience their very first day of school. This story highlights the excitement and the support and friendships that await in the classroom.
4. Lulu and The Red Bicycle
Get ready for a thrilling adventure with Lulu and her trusty red bicycle. This story teaches children about determination, bravery, and the joy of exploring the world around them.
5. My Magical Glasses
Discover a world of wonder through the eyes of a child with Down syndrome and their magical glasses. This story emphasizes that everyone sees the world in their own unique and beautiful way, encouraging us all to celebrate our differences.
Our Commitment
At Loaloa for Publishing, we've not only focused on crafting stories with heart but also on ensuring they are accessible to young readers. Each story features captivating and inclusive artwork that keeps children engaged, while the use of easy words ensures that the stories are approachable and enjoyable for all.
Collaboration and Expertise
To make these stories truly meaningful, we've collaborated with experts in the field of Down syndrome and engaged with parents of children with Down syndrome to ensure that our stories are both sensitive and accurate. We want these stories to be a valuable resource for children and their families, promoting understanding, acceptance, and empowerment.
Full info:
Author : Tasnim Imran
Artist :
Number of pages :
stories type :
Age Group: